Cuboni Reaction: non invasive late pregnancu test in Martina Franca jennies
Roberta Bucci

Università degli studi di Teramo - Facoltà di Medicina Veterinaria

Brunella Anna Giangaspero

Università degli studi di Teramo - Facoltà di Medicina Veterinaria

Michela D'Angelo

Università degli studi di Teramo - Facoltà di Medicina Veterinaria

Domenico Robbe

Università degli studi di Teramo - Facoltà di Medicina Veterinaria

Patrizia Ponzio

Università degli studi di Torino - Facoltà di Medicina Veterinaria

Anna Chiara Manetta

Università degli studi di Teramo - Facoltà di Medicina Veterinaria

Lorella Di Giuseppe

Università degli studi di Teramo - Facoltà di Medicina Veterinaria

Ippolito De Amici

Università degli studi di Teramo - Facoltà di Medicina Veterinaria
Keywords:
urine collection; animal welfare; pregnancy diagnosis; jennies; chemical test.
Abstract
Martina Franca donkey is an Italian native breed originally from the Puglia region in South Italy. These donkeys are mostly raised in groups that live outdoors throughout the whole year.
The "Cuboni reaction" is a test based on a chemical reaction that detects free estrogens in mare's urine using hydrochloric acid, benzene and sulfuric acid; it allows a late pregnancy diagnosis. To Authors' knowledge, there is only one paper in literature reproducing this technique on asinine species. The purpose of this study is to apply the Cuboni reaction test to the Martina Franca donkey to demonstrate the effectiveness of this method also in asinine species.
18 Martina Franca jennies, whose pregnancy has been confirmed with transrectal palpation and ultrasound examination, have been subjected to urine collection to confirm the pregnancy diagnosis by the Cuboni reaction.
Data collection were taken at G 120, G 135, G 150, to identify the moment when the reaction becomes positive. Other samples were taken from G 270, every 15 days until a negative result was obtained. Furthermore, the test was carried out on 2 non pregnant jennies asses reaction specificity.
Two collection techniques were used: collection from spontaneous urination was made in jennies not used to medical procedures; collection from bladder catheterization in animals used to medical procedures.
This work shows that Cuboni reaction is over 50% sensible from 120th day of pregnancy and 100% sensible from 150th to 300th day. However, the sensitivity of Cuboni reaction is less than 40% over 315th day of pregnancy; it also loses specificity detecting false negatives from day 315.
Cuboni reaction, despite having been overtaken by new technologies for pregnancy diagnosis, proves to be still useful particularly in Martina Franca donkey farms, where animals are raised in fields and they are not used to handling.
This method can still be used as a late pregnancy test in jennies for which ovulation day is not known but there is only a supposed date of mating; it is safe for the involved animals, easy to carry out by the breeder and provides results in a short time.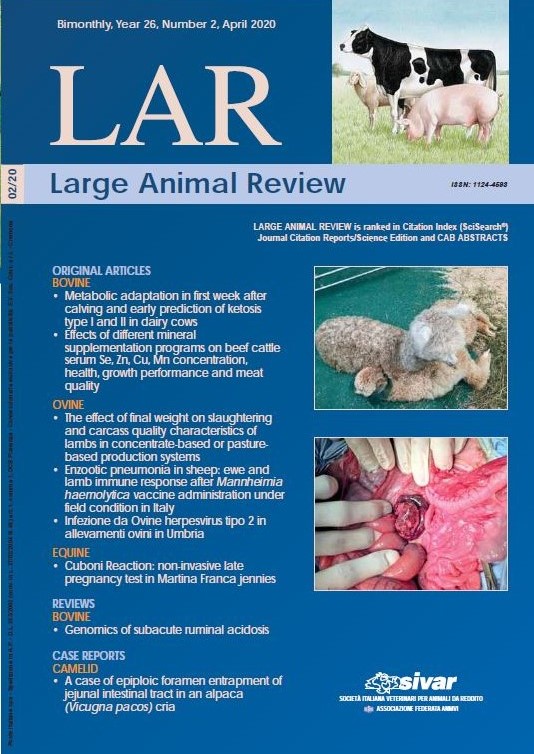 Section
Original Articles