Infezione da Streptococcus agalactiae in bovine da latte: epidemiologia e piano di controllo di regione Lombardia.
Giorgio Zanardi

Istituto Zooprofilattico Sperimentale della Lombardia e dell'Emilia Romagna

Antonio Vitali

Luigi Bertocchi

Bolzoni Giuseppe
Keywords:
Streptococcus agalactiae epidemiology in dairy herds and control plan of Lombardy Region
Abstract
Streptococcus agalactiae is the most cause of contagious mastitis, mainly subclinic or chronic, increasing somatic cells count, that is a hygienic parameter regulated by UE for the raw milk production and that adversely affects cheese production and milk composition.
In 2012 DG Welfare of Lombardy Region programmed a control plan of the Streptococcus agalactiae infection with the goal to reduce dairy herd prevalence in three years from 17,24% below 8%.
In 2014 at the end of this plan the average prevalence was 11,69%; only during the following three years, mantaining the surveillance plan the prevalence decreased to 7,47%, with values 2-7% in lowland areas and 15-25% in mountainous territories.
This paper describes epidemiologial characteristics of Streptococcus agalactiae and its control methods, showing the infection trend from 2012 to 2018 and the results of the Control Plan carried out in Lombardy Region. Furthermore, some critical issues are discussed about eradication, taking in account the main news in the Regional Plan published in 2019.
L'infezione da Streptococcus agalactiae è la principale causa di mastite contagiosa subclinica con eventuali forme di cronicizzazione, che comporta l'innalzamento del conteggio di cellule somatiche, parametro di conformità igienico sanitaria che influisce negativamente nei processi di trasformazione casearia e che è normato dalla UE per la produzione di latte crudo.
DG Welfare di Regione Lombardia dal 2012 ha impostato un piano di controllo e di eradicazione dell'infezione con l'obiettivo di ridurre la prevalenza all'8% alla fine del 2014.
La prevalenza media iniziale del 17,24% nel 2012 si è ridotta al 11,69% nel 2014 e solo nel 2018 si è attestata al 7,27% con risultati più favorevoli nelle zone di pianura (2-7%), mentre nelle aree di montagna persistono livelli d'infezione elevati, dal 15 al 25%.
Questo lavoro descrive le caratteristiche epidemiologiche dell'agente eziologico e le modalità del suo controllo, illustrando l'andamento dell'applicazione del Piano e i suoi riflessi sul controllo dell'infezione dal 2012 al 2018, evidenziando in particolare le criticità, che non hanno ancora permesso la sua eradicazione; a tale fine è stato, infatti, rimodulato il piano Regionale 2019.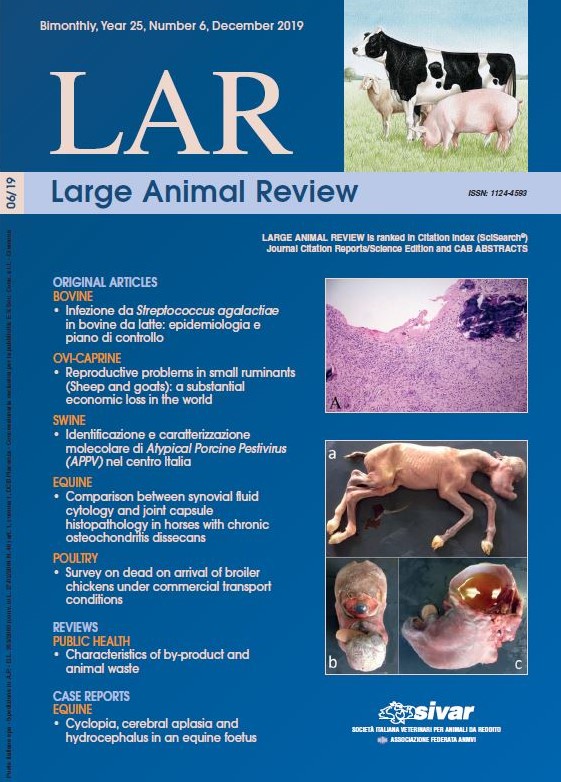 Section
Original Articles