Hepatitis E virus research in wild boars during 2017/2018 and 2018/2019 hunting season.
Chiara Masotti

Istituto Zooprofilattico Sperimentale del Piemonte, Liguria e Valle d'Aosta

Roberta Battistini

Walter Mignone

Enrica Berio

Monica Dellepiane

Tiziana Andreoli

Elisabetta Razzuoli

Simone Peletto

Chiara Beltramo

Pierluigi Acutis

Paola Modesto

Valeria Listorti

Carlo Ercolini

Laura Serracca
Keywords:
Hepatitis E Virus, wild boar, foodborne transmission, prevalence
Abstract
An increasing number of Hepatitis E virus (HEV) cases are currently recognized in many European countries. HEV is an emerging disease in industrialized countries. HEV is an important cause of human acute viral hepatitis worldwide, where the infection is acquired probably through ingestion of contaminated food, in addition to travel-related cases. In Europe, outbreaks have been reported linked to the consumption of pork liver sausages and wild boar meat. It has been shown that wildlife can serve as natural reservoirs of HEV. In Europe, especially in region where game meat is widely consumed, wild boars (Sus scrofa) are considered as the main wildlife reservoir of zoonotic hepatitis E virus genotypes. HEV is classified into eight genotypes. Genotypes 3 and 4 are considered zoonotic and are responsible for sporadic cases of food-borne disease due to the consumption of contaminated raw or undercooked meat. Genotypes 3 mainly circulates in domestic pigs and wild boars, which are the main sources of infection for humans. To assess the potential risk of zoonotic transmission of HEV from wild boars, an epidemiological survey has been conducted during the 2017-2018 e 2018-2019 hunting seasons in the Liguria region. Liver samples of 560 wild boars were analyzed for HEV RNA by realtime RT-PCR; positive samples were then sequenced and submitted to phylogenetic analysis. The results of the survey revealed the presence of HEV in 4.4% (25/560) of the examined wild boar's livers. Phylogenetic analysis classified the isolates as HEV genotype 3, highlighting the risk related to the consumption of wild boar-derived products for humans. HEV sequences belonged to HEV subtypes 3a, 3chi, 3c, and 3f. Our results indicate that HEV is circulating in wild boars among the considered game species in north-western Italy and suggest a potential zoonotic risk related to handling and/or consumption of raw or undercooked meat and products made of the liver from this species.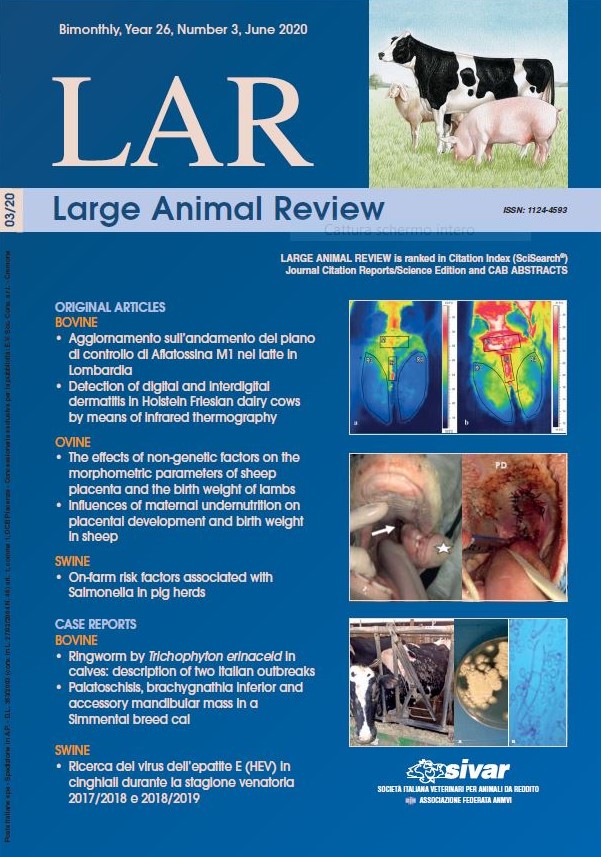 Section
Original Articles