Comparison of analgesic and sedative effects between three doses of tramadol in calves
Giovanna Costa

Department of Veterinary Sciences, University of Messina

Filippo Spadola

Martina Lentini

Emanuele Lubian

Fabio Leonardi
Keywords:
tramadol, cows, sedation, analgesia
Abstract
Aim - The aim of this study was to evaluate and compare the analgesia and ataxia degree between three dosages of tramadol in cattle.
Methods - Thirty Friesian cows undergoing transrectal and transvaginal ultrasound examination were enrolled. They were randomly divided into three groups, A, B, and C. Each group consisted of 10 subjects. Tramadol was administered intravenously as follow: 1 mg/kg (group A), 1.5 mg/kg (group B) and 3 mg/kg (group C). Heart rate, respiratory rate, non-invasive systolic pressure, ataxia score (range 0-3) and stimulus response score (range 0-4) were recorded before tramadol administration and at 10, 20, 30, 60 and 90 minutes after tramadol administration. A cumulative pain score (CPS, range 0-12) was performed. When the CPS was > 10 and stimulus response score was equal to 4, the animals received flunixin meglumine 3.3 mg/kg intravenously as rescue analgesia.
Results - Heart rate of cows treated with tramadol 3 mg/kg was significantly lower at 20, 30, 60 and 90 minutes (p < 0.001) compared to those of other groups. Cows treated with tramadol 1.5 mg/kg showed a significant increase (p = 0.010) in the degree of ataxia at all times compared to other groups.
The CPS recorded in group C was significantly lower (p = 0.028) compared to those of other groups at all times. Group B showed a significant lower (p = 0.028) stimulus response score compared to those of other groups. In group C, we observed phenomena of excitability and slight transient muscle fasciculation. No rescue analgesia was administered in any subject.
Conclusion and clinical relevance - Tramadol 1.5 mg/kg provided better ataxia and analgesia compared to other doses. Furthermore, tramadol 3 mg/kg may cause excitatory movements and muscle fasciculation.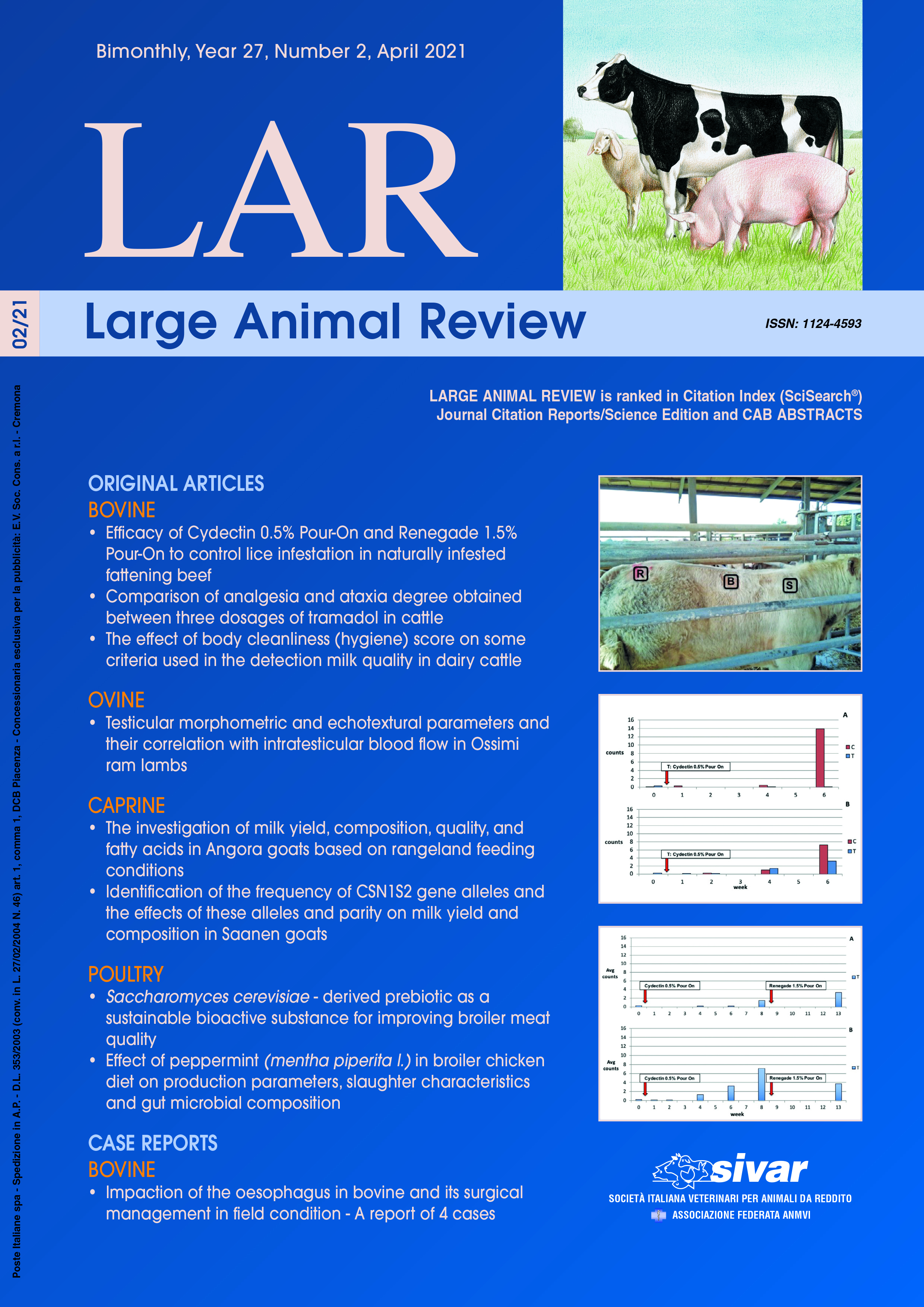 Section
Original Articles