Monitoring and benchmarking antibiotic usage of italian beef farms: a pilot study
Lindsey Lorenzo Lazzarino

Dipartimento di Scienze Agriare Forestali e Alimentari, UNITO

Alberto Ferrero

Società Italiana Veterinari per Animali da Reddito (SIVAR)

Giorgia Vezzaro

Dep. of Veterinary Science, University of TURIN

Valentina Maria Merlino

Dipartimento di Scienze Agriare Forestali e Alimentari, UNITO
Keywords:
beef, antibiotic, antimicrobial, Defined Daily Dose (DDD).
Abstract
The present work constitutes the first attempt to study overall antibiotic consumption patterns of the beef cattle sector in Piedmont, Italy.
The goals of studying antibiotic consumption are primarily two: to decrease the overall antibiotic consumption in general and, more specifically, to reduce to the minimum the use of the classes of antibiotics which are of primary importance for human health (cephalosporins of 3rd and 4th generation and fluoroquinolones). To this aim, the antibiotic usage of ten intensive beef farms, in the two-year period 2017-2018, was recorded and analysed. The selected farms are all located in the Po plain area between the cities of Turin and Cuneo and they are within the administrative bounds of the homonym provinces.
The software DDD/y (Defined Daily Dose per year), developed by the Italian Society of Veterinarians operating in the Livestock Sector (Sivar) was implemented to measure antibiotic consumption of the selected beef farms. It was then decided to propose a benchmark system for the section of the Sivar software dedicated to beef farms. The system was set to fit the Piedmontese intensive beef farming sector. The system is based on the one utilised by the Netherlands Veterinary Medicines Institute (SDa), as far as possible. Despite the differences between the Dutch and the Piedmontese beef farming sectors, the ideal aim would be to adopt a common EU system to effectively reduce the risk of selecting antibiotic resistant bacteria through the European Union.
Total antibiotic consumption is higher in the Piedmontese beef farming sector than in the analogous Dutch livestock sector. The benchmark system developed in the present study seems to be the optimum one to guarantee the highest reduction of antibiotic usage under the current conditions (Nord-West of Italy: Piedmont).
Reducing the risk of selecting antibiotic resistant bacteria, by decreasing overall antibiotic consumption, is one of the key roles that the farming sector plays in improving global health through the One Health approach.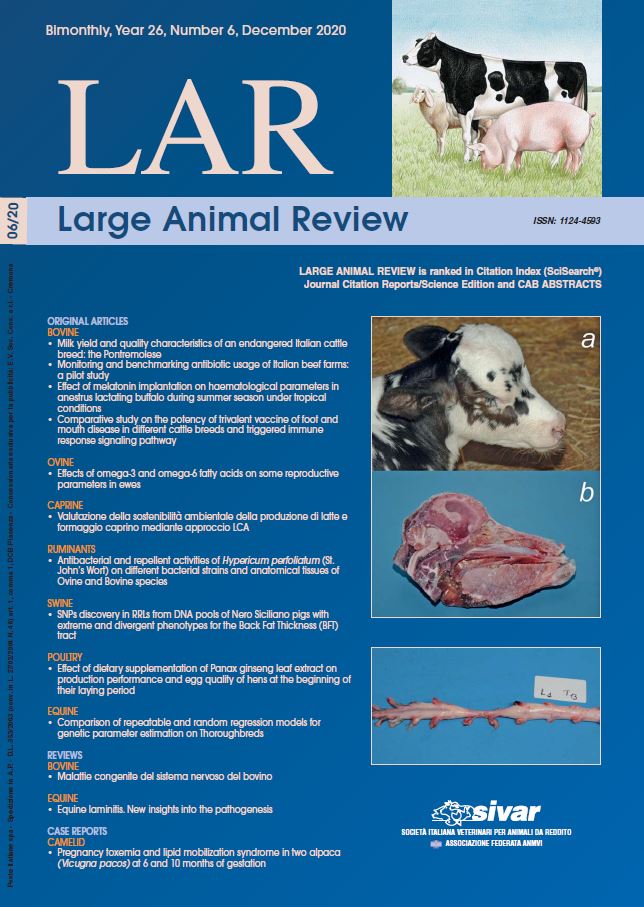 Section
Original Articles