Antimicrobial usage, animal welfare and biosecurity in 16 dairy farms in Lombardy
CONSUMO DI ANTIMICROBICI, BENESSERE ANIMALE E BIOSICUREZZA IN 16 AZIENDE DI BOVINE DA LATTE IN LOMBARDIA
Jessica Ginestreti

Istituto Zooprofilattico Sperimentale della Lombardia e dell'Emilia Romagna

Valentina Lorenzi

Istituto Zooprofilattico Sperimentale della Lombardia e dell'Emilia Romagna

Francesca Fusi

Istituto Zooprofilattico Sperimentale della Lombardia e dell'Emilia Romagna

Giandomenico Ferrara

Istituto Zooprofilattico Sperimentale della Lombardia e dell'Emilia Romagna

Federico Scali

Istituto Zooprofilattico Sperimentale della Lombardia e dell'Emilia Romagna

Giovanni Loris Alborali

Istituto Zooprofilattico Sperimentale della Lombardia e dell'Emilia Romagna

Luca Bolzoni

Istituto Zooprofilattico Sperimentale della Lombardia e dell'Emilia Romagna

Luigi Bertocchi

Istituto Zooprofilattico Sperimentale della Lombardia e dell'Emilia Romagna
Keywords:
welfare assessment, antimicrobial usage, dairy cow welfare, defined daily dose
Abstract
The present study reports the preliminary results obtained from the on-field application of the new Italian  integrated system "ClassyFarm" for the risk-based categorization of dairy farms in relation to animal welfare, biosecurity and antimicrobial usage and it investigates the relationships between these 3 aspects of the farming system. Over the three year-period 2016-2018, sixteen Italian loose housing dairy farms were assessed using this integrated approach.
Animal welfare and biosecurity levels were determined applying the checklist developed by the Italian Reference Centre for Animal Welfare (CReNBA) and included in the ClassyFarm system. The antimicrobial usage (AMU), defined as the number of days in which an animal is potentially exposed to an antimicrobial treatment during a year, was calculated using the Defined Daily Dose Animal for Italy (DDDAit), based on the Italian summaries of product characteristics.
In the sixteen investigated farms, the average animal welfare level was 67.98% (range 45.32%-81.69%), the average biosecurity level was 45.86% (range 21.41% - 71.56%) and the average AMU was 10.57 days/cow per year. Antimicrobials in cows were mostly used for udder problems (42.03%), dry cow therapies (35.77%), locomotion problems (12.74%), urogenital diseases (5.79%) and respiratory diseases (2.36%). Penicillins, fourth- and third-generation cephalosporins were the most used classes of antimicrobials. Injectable and intramammary routes were the most common routes of administration, respectively the 43.57% and the 34.67% of the treatments.
No statistically significant correlations (Spearman's rank correlation coefficient) were identified between AMU and the other variables (animal welfare level and biosecurity level), however, further investigations on a larger sample of farms are needed to confirm the obtained results.  
The integrated system "ClassyFarm" turned out to be a very promising tool for Italian dairy farms, in order to monitor and enhance animal welfare and biosecurity levels and to support a more rational antimicrobial usage, satisfying National and European demands for the reduction of the antimicrobial usage.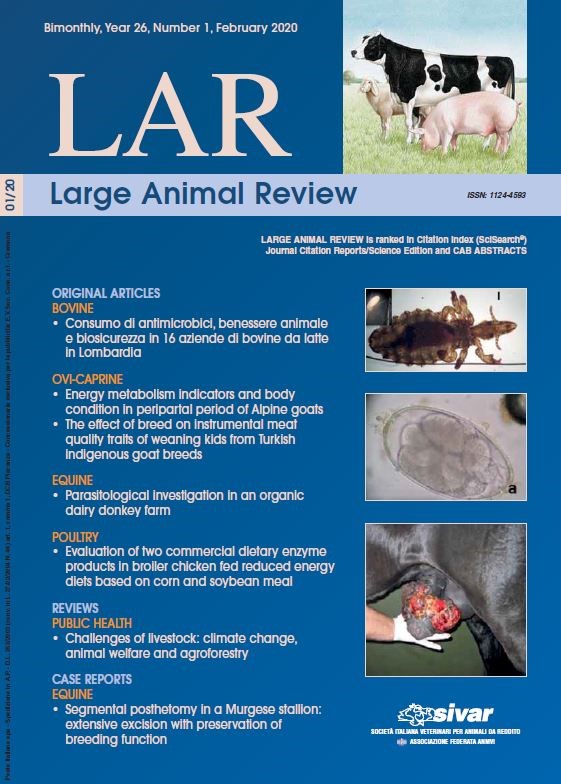 Section
Original Articles