Efficacy of Cydectin 0.5% Pour-On and Renegade 1.5% Pour-On to control lice infestation in naturally infested fattening beef
Rudi Cassini

Andrea Carcereri

Francesco La Torre

Giuliano Pisoni

Vincenzo Salamina

Claudio Ceccato

Luca Cozza

Mario Pietrobelli

Antonio Frangipane di Regalbono
Keywords:
lice, bovine, moxidectin, cypermethrin, Italy
Abstract
Typical Italian beef production in feedlot is based on an intensive 6-months fattening period of imported bulls, which are generally treated at their arrival with endectocides. However, emergence of mange and pediculosis are usually reported. In the present study we assessed the efficacy of the administration of Cydectin 0.5% Pour-On at the arrival of the animals, followed by Renegade 1.5% Pour-On after 8 weeks, in controlling lice infestation.
One treatment group (T), and one control group (C), composed of 8 animals each, were kept in two different boxes and monitored through clinical observation and lice sampling after one, two, four, six, eight and 13 weeks. Lice were collected from three standard sheared areas (shoulders, back and rump), on the right side of the animals, and observed at the stereo-microscope in laboratory for specimens counts and identification. Differences in counts between C and T groups were evaluated using a non-parametric statistic.
Among the four bovine lice species, only Bovicola bovis and Linognathus vituli were found in both groups at pre-treatment sampling and throughout the whole trial. Both species were kept at very low burden in the T group up to the 13th week, whereas their number started to increase exponentially in the C group after the fourth week. It was impossible to compare the trends of the two groups after the sixth week, since the C group was treated due to a mange outbreak. The combination of an initial treatment using a macrocyclic lactone with a second treatment using an insecticide at 2 months after arrival showed to effectively control lice infestation and to prevent clinical signs of pediculosis.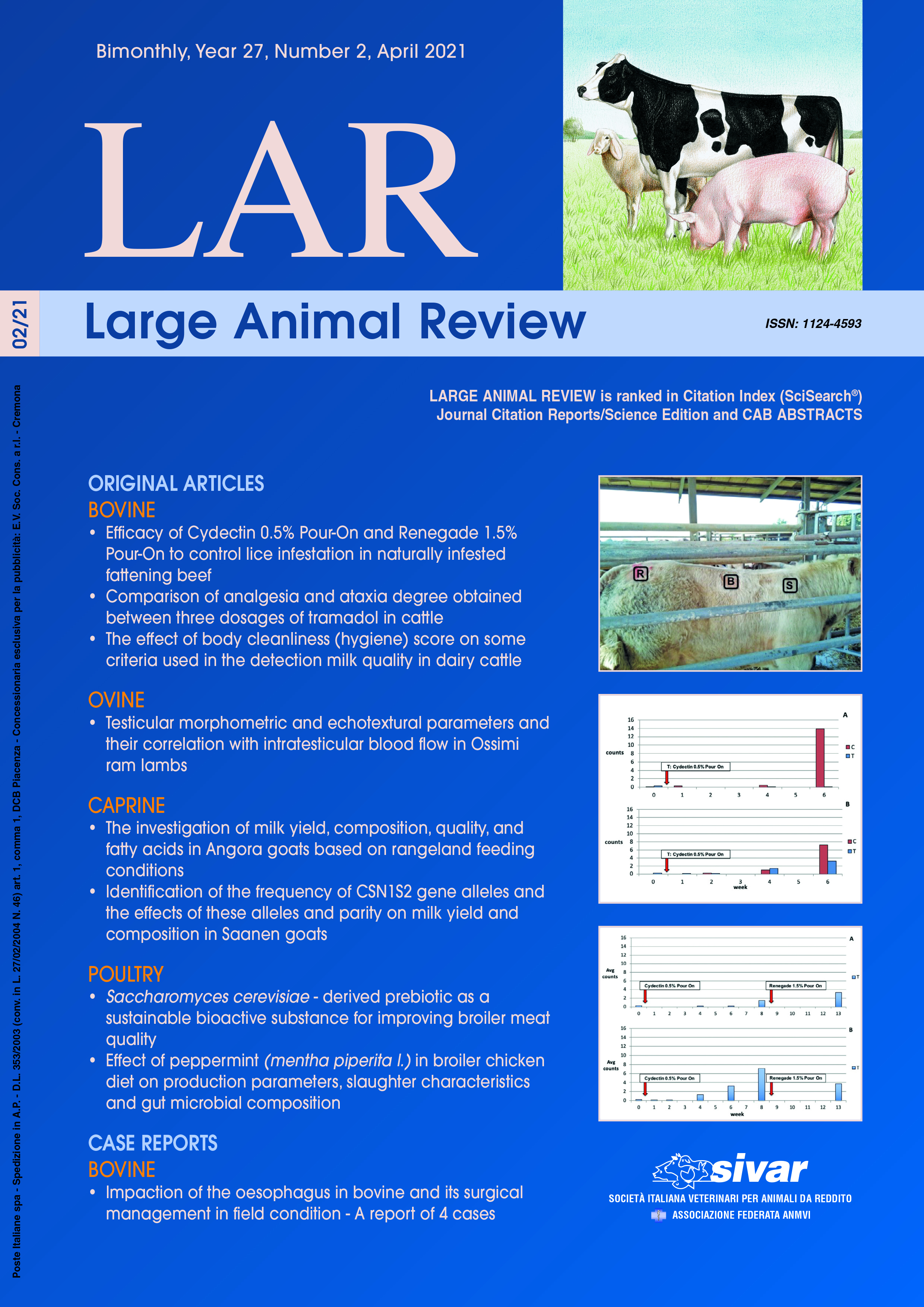 Section
Original Articles