Antimicrobial susceptibility pattern to disinfectants in Pseudomonas aeruginosa strains isolated from dairy sheep breeds in Sardinia
A. Scano

G. Serafi

S. Fais

S. Bomboi

M. Peri

A. Ibba

G. Girometta

Germano Orrù

P. Rossi

P. Sanna

F. Coghe

M. Licciardi
Keywords:
Pseudomonas aeruginosa, sheep, mastitis, disinfectants, MICs
Abstract
Introduction - Pseudomonas aeruginosa is still one of the leading causes of morbidity in dairy animals and particularly associated with severe clinical forms of mastitis. Its outstanding capacity to evade the activity of antimicrobial prophylaxis makes this species one of the most feared pathogens. In this context the World Health Organization (WHO) has reported this pathogen in a catalogue of bacteria that pose the greatest threat to human health. Thus, an accurate disinfection procedure is needed to avoid the incidence of Pseudomonas- related diseases in veterinary as well as in human medicine.
Aim - The aim of this study was to evaluate the antimicrobial resistance patterns to common disinfectants in P. aeruginosa strains isolated from ovine breeding farms in Italy.
Materials and methods - In this study a set of 44 clinical P. aeruginosa strains isolated from 11 different sheep breeding farms with clinical cases of severe mastitis were analyzed and evaluated for susceptibility to 4 different disinfectants: Benzalkonium Chloride (BZC), Chlorhexidine (CHX), Sodium Hypochlorite (NaClO) and Hydrogen Peroxide (H2O2). The capacity of these disinfectants to inhibit P. aeruginosa was evaluated by using standard broth microdilution methods.
Results and discussion - The results showed that CHX and NaClO were the most active against this bacterium, but a great number of multi-disinfectant resistant strains were observed altogether, especially if we consider BZC and H2O2, with 55% of drug resistant strains. Moreover, a correlation was evaluated between H2O2 MIC values and: (i) percentage of mucoid strains, (ii) increase in resistance patterns to other disinfectants (Pearson's 2 was 0.029 for CHX).
Conclusion - The work suggests the crucial role of disinfection in veterinary medicine and raises concern about the possibility of an inadequate prophylaxis through the use of Hydrogen Peroxide on breeding farms contaminated with Pseudomonas spp.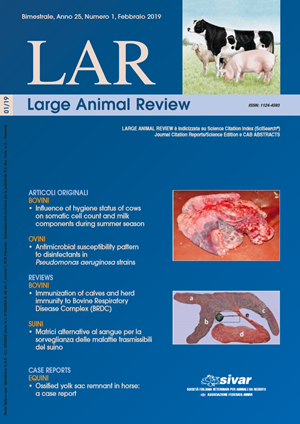 Section
Original Articles