Study of postnatal growth of mule and donkey foals sired by the same jackass
Augusto Carluccio

University of Teramo

Alberto Contri

Alessia Gloria

University of Teramo

Domenico Robbe

Giorgio Vignola
Keywords:
Horse, mule; Martina Franca donkey, breeding, postnatal growth.
Abstract
Mules have been enrolled for agricultural work in national parks or islands and hard-to-reach places in which the use of machinery is forbidden or not feasible. Despite the importance of this animal, limited information is reported regarding gestation, parturition, and post-natal growth in mule.
To evaluate the effects of the pregnancy length, birthweight, and fetal sex on neonatal health and growth in mule and donkey foals born from Heavy Draft mares (n=15) and Martina Franca jennies (n=18) inseminated with the same jackass until 30 months of age.
This study was conducted on 15 healthy Heavy Draft mares, 4 to 6 years old and weighing 640 to 730 kg, and 18 healthy Martina Franca jennies 4 to 6 years old and weighing 390 to 420 kg. All animals presented normal reproductive history such as cyclicity, pregnancy, and foaling. The semen used for artificial insemination was collected from the same 7 years old 485 kg bodyweight Martina Franca jackass of proven fertility.
Pregnancy length in the mares bearing mule foal (339 ± 9 days) was similar to that reported in the equine gestation and was longer in female mules (347 ± 4.4 days) than males (331 ± 5.46 days) (P < 0.05). In donkey, pregnancy length was significantly longer in male foals (373.7 ± 10.4 days) than females (366.9 ± 5.6 days) (P < 0.01). The mean birth weight was higher in mules compared to donkey foals (50.6 ± 4.83 vs 33.4 ± 5.7 kg) and was greater in male mules than in females (53.95 ± 3.2 kg and 46.6 ± 2.96 kg, respectively; P < 0.05). Mule foal's weight increased faster than donkey foals, despite a similar height at withers at different time points. Pregnancy length affected birthweight in both mule and donkey foals, and birthweight was related to post-natal growth in both mule and donkey foals. The findings reported in this manuscript could optimize the maternal-foal management of this equine hybrid.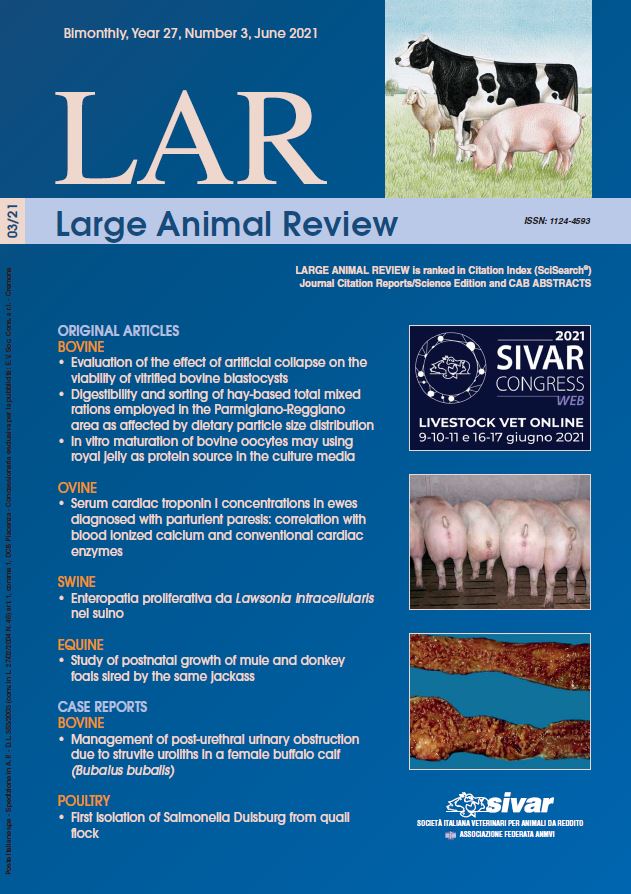 Section
Original Articles