Radical surgical technique for treatment of white line disease in dairy cows
Riccardo Rinnovati

Attilio L. Mordenti

Mattia Fustini

Michelangelo Morselli

Sara Del Magno

Giulia Forni

Alessandro Spadari
Keywords:
Bovine claw lesions, sole ulcers, surgical treatment, white line disease, lameness.
Abstract
Introduction - This clinical research investigates whether rigorous and aggressive surgical debridement of white line disease (WLD) lesions in 236 lame cows, in association with a medicated bandage, would promote clinical healing (as evidenced by coverage of the lesion with new horn) with subsequent improvement in milk production.
Materials and methods - After claw trimming, wall and sole horn were removed and the horn rim trimmed around and inside the lesion using a hoof knife, until abundant bleeding was present. The wound was then rinsed, covered with a topical antibiotic and bandaged.
Results - Out of the initial 236 lame cows, on day two 40 cows were not lame anymore and 196 cows showed a score of 2 out of 5. On day 18, two cows had a grade 4 lameness, with the lesions being smaller but not completely healed. On days 30 and 40, none of the remaining 234 cows developed recurrence of pathology or lameness. At day 60, lesions were completely healed.
Discussion - This aggressive surgical treatment allows milk production not to decrease comparing to the control group and can be easily implemented in practice.
Conclusions - Since bovine claw lesions represent one of the main problems in dairy cattles, this surgical technique could be suggested as a valid option for the treatment of WLD in cows.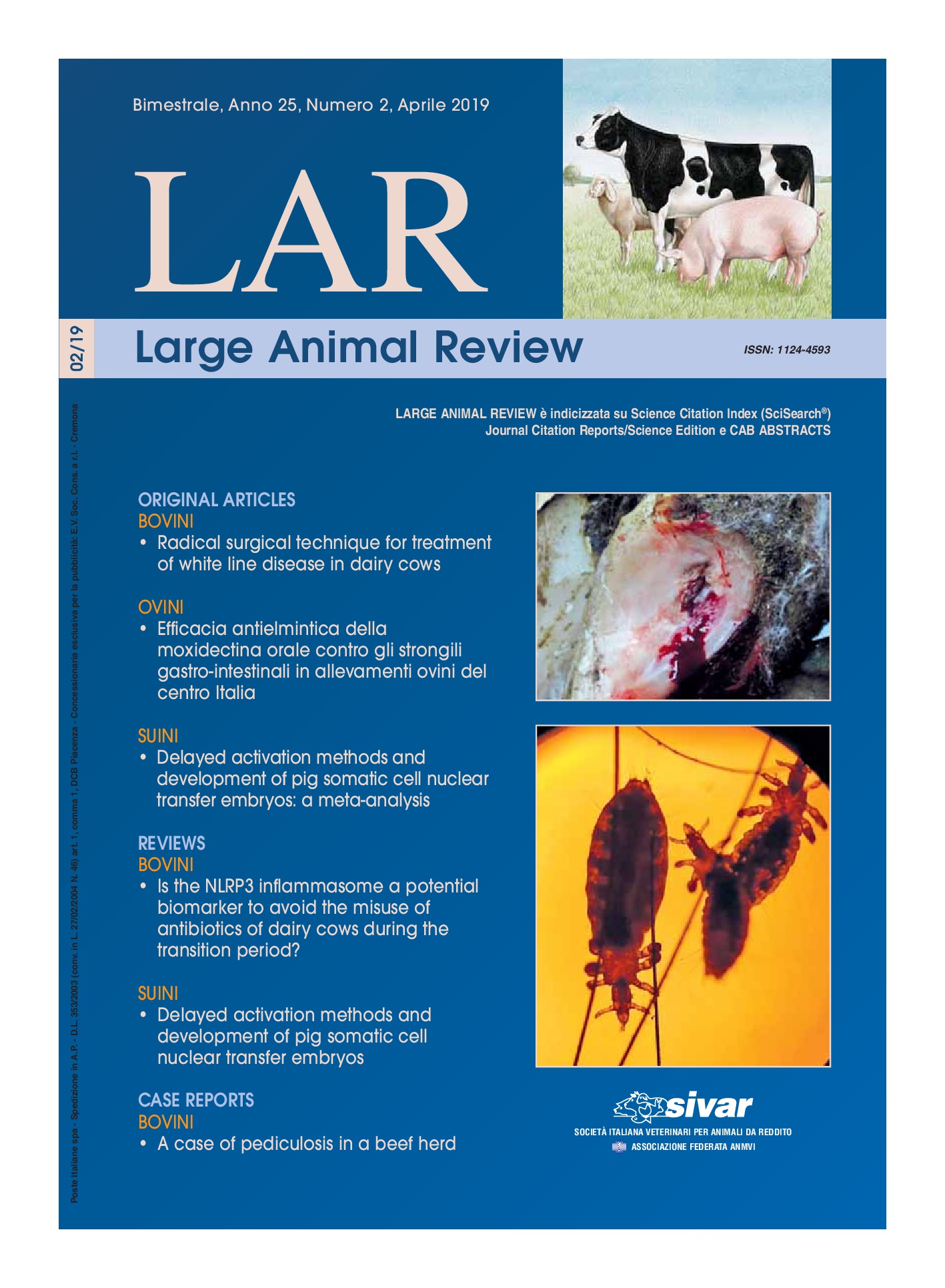 Section
Original Articles