Antigenic and histopathologic evaluation with molecular characterization and identification of BPIV3 in cattle with respiratory system infections
Ali KÜÇÜK

affilation

Yakup YILDIRIM

Prof.Dr.
Keywords:
Bovine Parainfluenza Virus Type 3; Histopathology; Phylogenetic Analysis; Prevalence
Abstract
Parainfluenza virus is one of the primary viral agents causing crucial respiratory system diseases in cattle, which is nowadays a major health issue worldwide. This study aimed to determine the role and genotype of BPIV3 in circulation in respiratory system diseases in cattle by molecular and virological analyses. A total of 570 samples as nasal swabs, conjunctival swabs and leukocyte from 190 cattle of various races, ages, and genders not vaccinated against the agent with symptoms of respiratory system infection were taken. The inoculums prepared from swab samples for virus isolation were planted into MDBK and Vero cell lines using the adsorption method. Although the four blind passages were unable to isolate BPIV3, all samples underwent the RT-PCR technique in which the viral genome was detected in two nasal swab samples, while the viral nucleic acid could not be detected in conjunctival, leukocyte samples, or cell culture supernatants. As a result of the sequence analysis applied on one of these samples, the agent was proved as the BPIV3 genotype strain. Additionally, the DIF test applied on samples prepared from 380 nasal and conjunctival swabs, BPIV3 antigenic structures were seen in six swab samples, while the virological diagnosis could not be performed in conjunctival swab samples. In two samples where the viral genome was detected, the virological diagnosis was performed by the DIF test. Histopathological studies were carried out on a lung tissue sample of an animal that was positive for molecular and virological BPIV3. These studies revealed few histopathological findings, such as septal tissue thickening indigenous to pneumonia cases and inflammatory cell infiltration. Henceforth, it has been suggested that BPIV3 is a crucial etiological agent while its genotype C is in circulation among the cattle susceptible to respiratory system infections in southwest Turkey.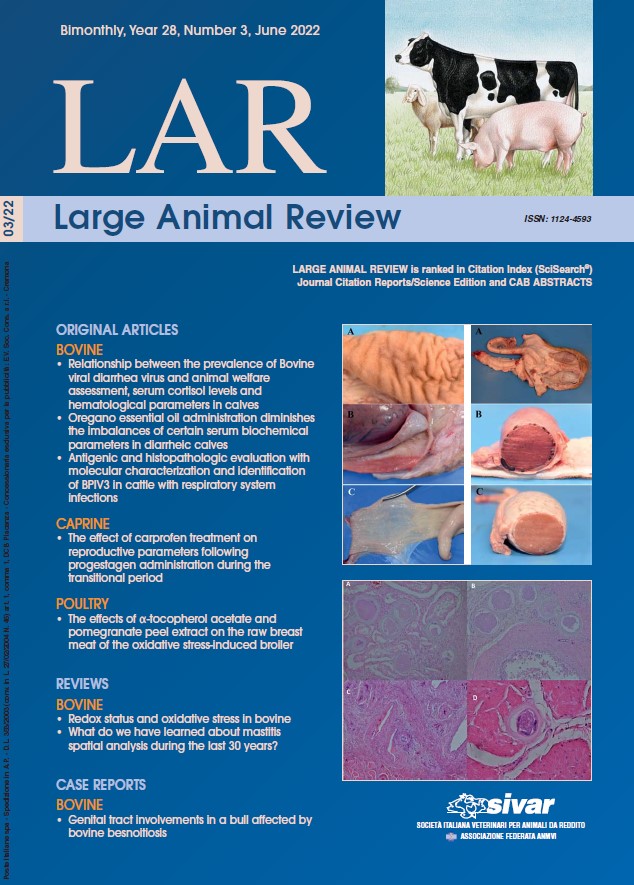 Section
Original Articles