The effect of carprofen treatment on reproductive parameters following progestagen administration in lactating German Fawn × Hair crossbred goats during the transitional period
Metehan Kutlu

Dr.

Hasan Alkan

Dr.

Halef Doğan

Dr.

Dursun Ali Dinç

Prof. Dr.
Keywords:
carprofen, goat, progesterone, litter size, pregnancy rate
Abstract
The aim of this study was determine the effects of carprofen treatment on some reproductive parameters in German Fawn (75%) × Hair (25%) Crossbred goats during the transitional period. The 60 adult goats were treated with an intravaginal sponge containing progestagens (60 mg medroxyprogesterone acetate, Espojavet®, Hipra) for 17 days in the transitional period (June) (day -18). All animals 2 days before the sponge removal (day -3) 12.5 mg dinoprost tromethamine (Dinolytic High Concentration®, Zoetis) were received, beside PMSG 400 IU (Oviser®, Hipra) received on the day of removal of the sponge (day -1). Goats in Control Group (n = 30) were not administered any nonsteroidal anti-inflammatory drug. Goats in Carprofen Group (n = 30) were given 1.4 mg/kg carprofen (Rimadyl XL®, Zoetis) on day 14 post mating (day of estrus=day 0). All goats showed estrus and estrus rate was 100% in all goats. The results showed that there were no statistical differences between the Control Group and Carprofen Group in pregnancy rates (90% and 93.3%), multiple birth rates (66.6% and 78.5%) and litter sizes (2.03 and 2.32). The serum progesterone concentration on day 16 post mating of Carprofen Group (3.63 ng/ml) were significantly higher than those of Control Group (2.54 ng/ml) (p < 0.05). It is concluded that, after long term (17 day) progesterone administration during the transitional period, carprofen treatment increased P4 concentration but the increased P4 concentrations did not have a remarkable effect on the pregnancy rate however, induced numerically higher litter size (p > 0.05).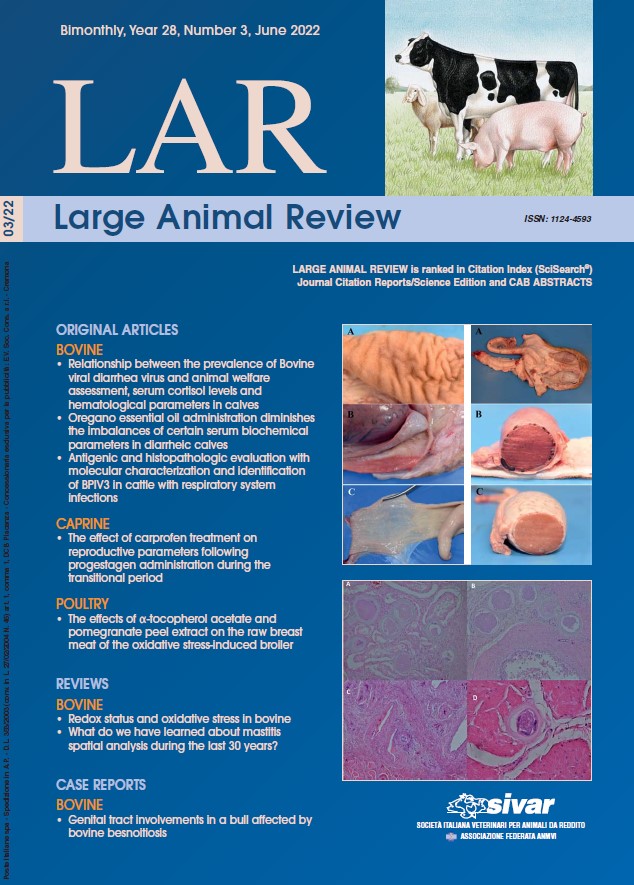 Section
Original Articles