Effectiveness of a complementary feed containing extract of Griffonia Simplicifolia and Olea Europaea on horses affected by equine gastric ulcer syndrome
Sara Busechian

Department of Veterinary Medicine, Via San Costanzo 4, 06126, Perugia, Italy

Chiara Catalano

2 Equine Line Consultant, NBF Lanes Srl, Corso di Porta Vittoria 14, 20122, Milano, Italy

Paola Straticò

3Faculty of Veterinary Medicine, località Piano d'Accio, 64100, Teramo, Italy

Alessandro Gramenzi

2 Equine Line Consultant, NBF Lanes Srl, Corso di Porta Vittoria 14, 20122, Milano, Italy 3Faculty of Veterinary Medicine, località Piano d'Accio, 64100, Teramo, Italy

Lucio Petrizzi

3Faculty of Veterinary Medicine, località Piano d'Accio, 64100, Teramo, Italy

Simona Orvieto

Private practitioner, Perugia, Italy

Fabrizio Rueca

Sport Horse Research Center, Department of Veterinary Medicine, Via San Costanzo 4, 06126, Perugia, Italy
Keywords:
Griffonia simplicifolia; Olea europaea; ESGD; EGGD; gastric ulcers.
Abstract
Equine gastric ulcer syndrome (EGUS) is a worldwide disease, found especially in racehorses, although it can affect different categories of animals with difference in prevalence. Recently, two different diseases have been recognized, the first affecting the squamous mucosa (Equine Squamous Gastric Disease, ESGD) and the other the glandular mucosa (Equine Glandular Gastric Disease, EGGD), with different pathophysiology, risk factors and management. To date, the main strategy for the treatment involves acid-suppressive therapy with omeprazole, often associated with sucralfate; yet the total safety and absence of side effects of this treatment have recently been questioned. Recently, an increasing number of studies have been investigating the use of complementary feeds to manage of these health issues. The purpose of this study is to evaluate the effectiveness of a complementary feed administered for 28 days for EGUS control. A gastroscopy (T0) was used to select sixteen horses with lesions on the squamous mucosa, graded between 0/4 and 4/4. A second gastroscopy was performed at the end of the supplementation (T1) to assess any changes in the lesions score. The data obtained did not reveal statistically significant differences that might enable us to objectively establish whether the product is effective in the case of these gastric pathologies. However, gastroscopic images showed
a clear improvement in the lesions and in the appearance of the mucosa even in the absence of score variations, suggesting that 28 days of administration may not be sufficient for complete healing. During the trial the treated subjects displayed an improvement in behavior and appeared to be more relaxed and inclined to work. The results allow us to affirm that, despite not being statistically relevant, the feed supplement improved not only the appearance of the gastric mucosa, especially of the squamous mucosa, but also the well-being of the horses, making them more willing to work. Further studies are needed, with an increased number
of horses and a longer length of supplementation period.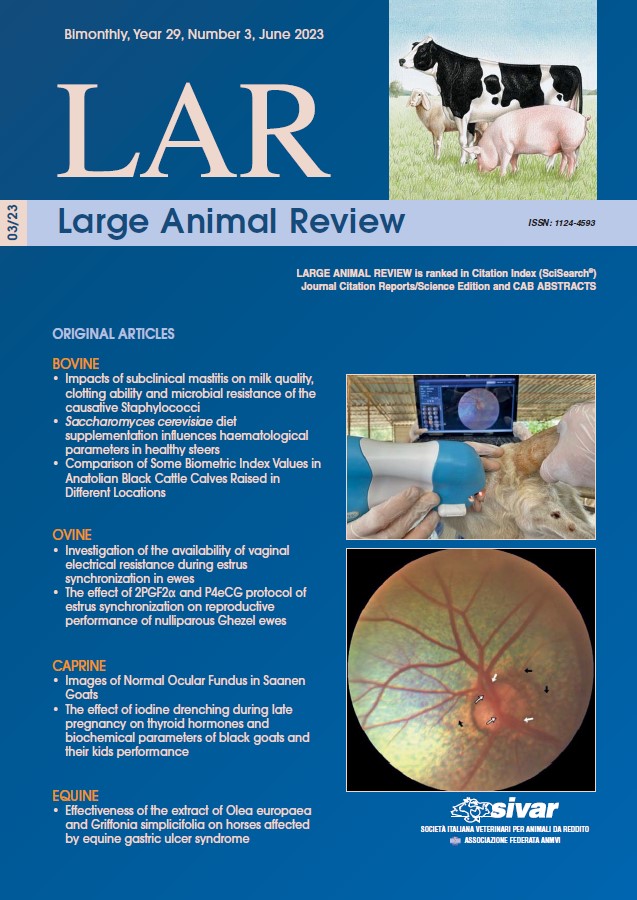 Section
Original Articles