Implication of chemical compositions and in vitro properties of coriander, ajwain and dill seed essential oils as potential replacement of antibiotic growth promoters in broilers
Keywords:
Essential oil, in vitro, antibacterial, antioxidant, broiler
Abstract
The aim of this study was to evaluate chemical constituents and antimicrobial as well as antioxidant properties of three essential oils (EOs) of Apiaceae family, coriander (Coriandrum sativum), ajwain (Trachyspermum ammi) and dill seed (Anethum graveolens) to assess their in vitro potential to be used as an alternative to antibiotic growth promoters (AGPs) in broiler production. The EOs of coriander, ajwain and dill seed were extracted by hydro-distillation technique and analyzed for their chemical constituents by gas chromatography-mass spectrophotometry (GC-MS) analysis. The GC-MS analysis indicated that the major bioactive compounds in coriander essential oil (CEO), ajwain essential oil (AjEO) and dill seed essential oil (DEO) are linalool (56.8%), thymol (68.2%) and carvone (41.1%), respectively. The antibacterial capacity of these EOs determined against E. coli and two Salmonella species of poultry origin. In agar well diffusion assay for E. coli, AjEO was 2 and 3 folds more potent as compared to CEO and DEO, respectively. For S. enteritidis, DEO showed 2 folds more activity than AjEO, whereas for S. gallinarum AjEO performed 3 times better than CEO. In agreement with the results of the agar well diffusion assay, minimum inhibitory concentrations (MIC) of AjEO were lowest for E. coli and S. gallinarum as compared to other EOs, while for S. enteritidis, MIC of DEO was found lowest. The antioxidant activities, analyzed by per oxide value (PV), thiobarbituric acid (TBA) and 2,2'-diphenyl-1-picrylhydrazyl (DPPH) method showed the AjEO had highest antioxidant potential in comparison to other EOs. During storage period of 28 days, AjEO reduced the PV and TBA values of rapeseed oil by 44.3 and 49.1%, respectively. Overall, the findings of in vitro analysis demonstrated that AjEO in comparison to CEO and DEO, has considerable antibacterial and antioxidant activities and could be a potential replacement of AGPs in broiler production with less amount of supplementation.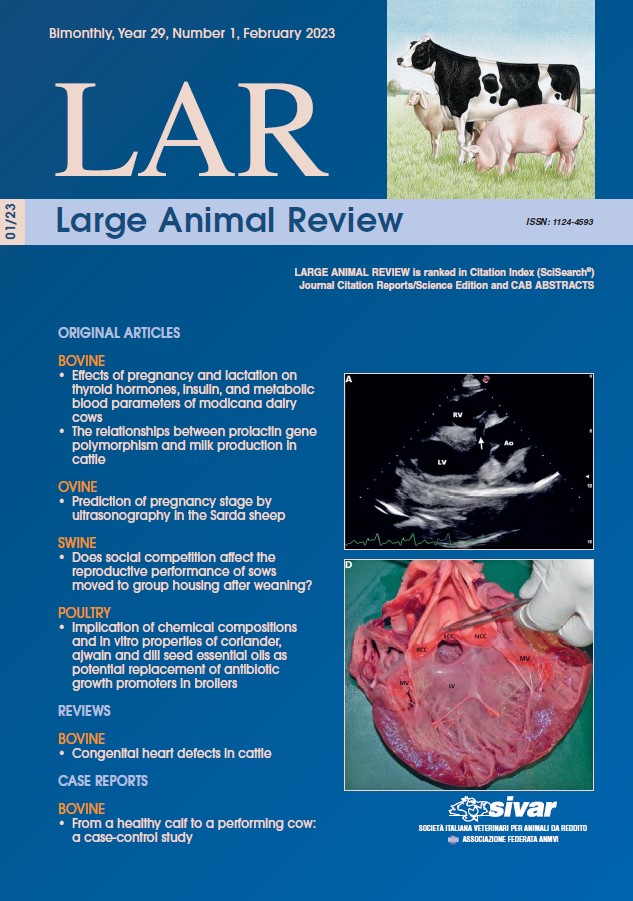 Section
Original Articles