Pseudotubercolosi aviare in tacchini della provincia di Chieti, Italia
Elga Ersilia Tieri

Istituto Zooprofilattico dell'Abruzzo e del Molise

Maria Antonietta Saletti

Istituto Zooprofilattico Sperimentale dell'Abruzzo e del Molise "G. Caporale", Campo Boario, 64100 Teramo, Italy

Alessandra Cornacchia

Istituto Zooprofilattico Sperimentale dell'Abruzzo e del Molise "G. Caporale", Campo Boario, 64100 Teramo, Italy

Gabriella Di Francesco

Istituto Zooprofilattico Sperimentale dell'Abruzzo e del Molise "G. Caporale", Campo Boario, 64100 Teramo, Italy

Anna Rita D'Angelo

Istituto Zooprofilattico Sperimentale dell'Abruzzo e del Molise "G. Caporale", Campo Boario, 64100 Teramo, Italy
Keywords:
Key Words: turkey; splenitis; hepatitis; granuloma; Yersinia pseudotubercolosis
Abstract
ABSTRACT
Introduction
Pseudotubercolosis is a contagious disease of domestic and wild animals caused by Yersinia pseudotubercolosis, which can affects humans.
Aim
Since only limited data about turkeys infected by Yersinia pseudotubercolosis can be found in literature, we will be describing the anatomo-pathological lesions and histopathological results observed in turkeys ( Meleagris gallopavo) during an outbreak occurred in a flock in the province of Chieti. The disease in affected turkeys was characterized by debility, ruffled feathers, dyspnea, diarrhea, anorexia and death in about two weeks from the beginning of the clinical symptoms.
Matherials and methods
The outbreak took place between November and Januar; in this period, 60 female turkeys about five months old died out of the total of 105 (57.14%) that had been put into the flock in August.
Turkeys were free to move by stable to open area paddock and farmer didn't use a pests control plan, even  if  he  noticed the presence of roditors in his farm.
At necropsy, in 5 carcasses examined, splenitis was observed and hepatitis with multifocal white protuberant foci of 1-2 mm in diameter both in kidneys and in lungs.
Results and conclusions
The histopathological tests indicated granulomatous lesions and extensive areas of tissue necrosis, in some of them bacterial agglomerates were present. Similar areas of tissue necrosis were observed microscopically in the kidneys and lungs of 3 turkeys.
The bacteriological test carried out on liver, spleen, kidney and lungs showed the growth of Gram-negative coccobacillus, oxidase-negative, catalase positive and the API 20E system identified the isolate as Yersinia pseudotubercolosis.
The isolate showed to be sensitive to some antimicrobials, the animals therefore have been subjected to a therapeutic treatment with tetracyclines which ended the outbreak.
Yersinia pseudotuberculosis can infect human beings and cause acute enteritis and mesenteric lymphadenitis. People in contact with infected animals should use extreme caution and adopt all possible healthcare measures to prevent this agent from being transmitted.
In order to reduce the risk of infection between bred birds and healthy carrier animals, it is advisable adopt in the farm sanitary measures aimed at preventing contact between them and at avoiding contamination of foodstuff and drink water.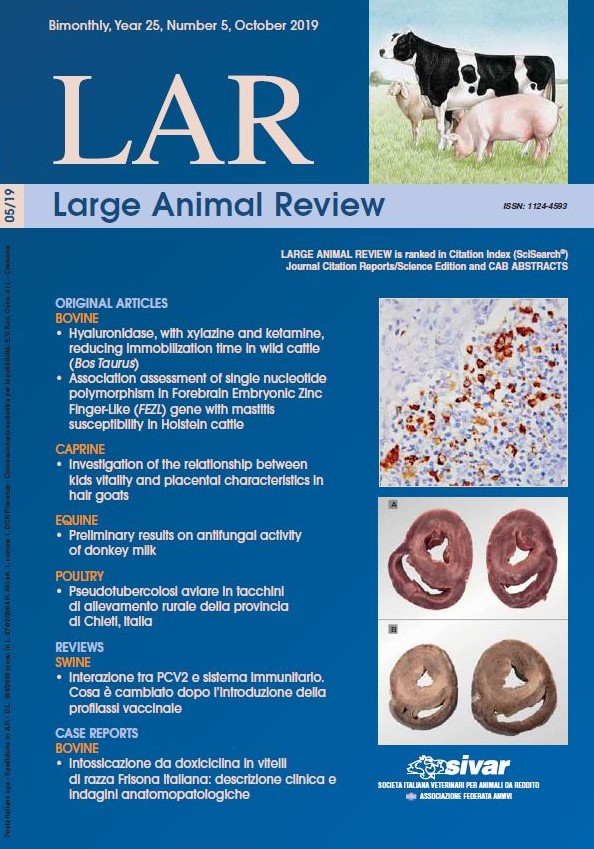 Section
Original Articles